Allsteel Processing is a privately owned Australian Company and was established in 1994 primarily as a Steel Processor / Steel Fabricator.
Over time we have progressively expanded our services and equipment to encompass the supply of finished products to various industries that include Mining, Transport, Materials Handling, Construction and Automotive, just to name a few.
Located just several hundred metres from Eastlink in brand new premises at Dandenong Sth, Allsteel Processing prides itself on working closely with all of our clients to achieve their desired results.
At Allsteel Processing we aim to offer immediate assistance in helping you meet your deadlines, whether it's Guillotining, Boilermaking / Welding or Forming we can help.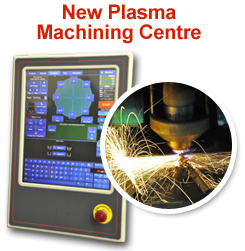 Allsteel Processing's new Plasma and Machining centre allows us to Cut, Bevel, Drill, Tap, Countersink & Machine Mild Steel, Stainless and Aluminium to a high quality finish. Allsteel Processing can offer small to high production runs to suit your needs, which in turn will save you time and money.
We can also offer Stitch Cut beams, Base Plates, Cleats etc for the Construction Industry.
Allsteel Processing work closely with Engineers / Designers to achieve complete Fabrication Solutions that encompass a wide variety of Design issues, some of which cover the following industries.
Mining
Transport
Construction
Medical Waste
Materials Handling
Marine
Allsteel Processing are able to Guillotine materials such as Mild Steel, Stainless , Aluminium, Copper & Brass.
NC programmable guillotines enable us to save you time and money, with fast, accurate & reliable service.
Capacity
Up to 6mm thick x 4100 long
Up to 10mm thick x 3000 long (Refer to PLASMA outside of these capacities.)
Small & large production runs
24 hour leadtimes if required (subject to volume)
Tolerances to +/- .5mm
We handle various materials from Mild Steel and Stainless through to Aluminium & Brass.
Products formed include customised channels & angles, stair treads, automotive parts, structural brackets to name just a few.
Capacity
250 tonnes x 4300 long
Consistent & accurate degree of forming.
Small & Large production runs
Allsteel Processing are able to process materials such as
Mild Steel, Stainless , Aluminium, Copper & Brass.We are able to cater for various requirements upon request.
Angles & Flats
RHS + SHS
Squares & Rounds
Channels, UB's & UC'
C.A.D., FASTCAM, DEVELOPMENTS
Galvanising
Zinc Plating
Powder Coating
Painting
Allsteel Processing can offer Design & Finishing services to meet customer requirements.
This enables us to take your project from design right through to the finished product.
Design

Guillotining

Forming

Rolling

Saw cutting

Plasma Cutting (alternative to laser cutting) including CNC Drilling
Punching & Cropping

Fabrication

Mig, Tig and Arc welding

Mild Steel, Stainless, Aluminium and various other metals.

Finishing Services inc Galvanising, Electro Plating, Powder Coating & Paint.
Get In Touch
Contact ALLSTEEL
So contact us now to see how we can lend a hand in achieving your goals, from help with design right through to the finished product we're only a phone call or email away.
Get In Touch